FACE MASK & VENTILATOR
Face Mask | After the COVID-19 pandemic, our trading group decided to focus on selling FACEMASKS and VENTILATORS as well as our routine business items. This is an action for helping countries, to control spreading Coronavirus.

Please send your demand to email
INFO@DTCOMPANY.COM
We will answer you as soon as possible.
3PLY Mask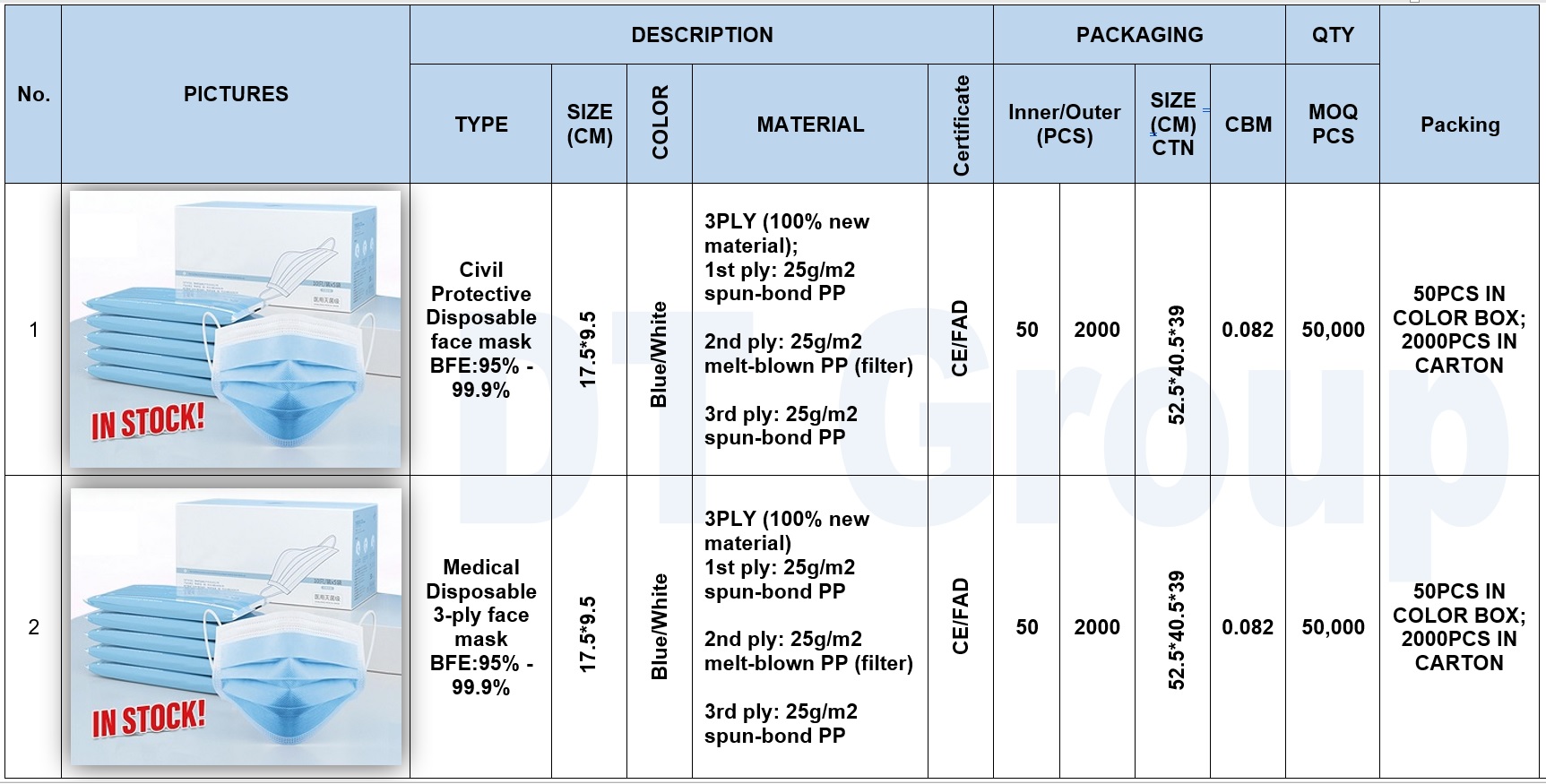 KN95 & N95 Mask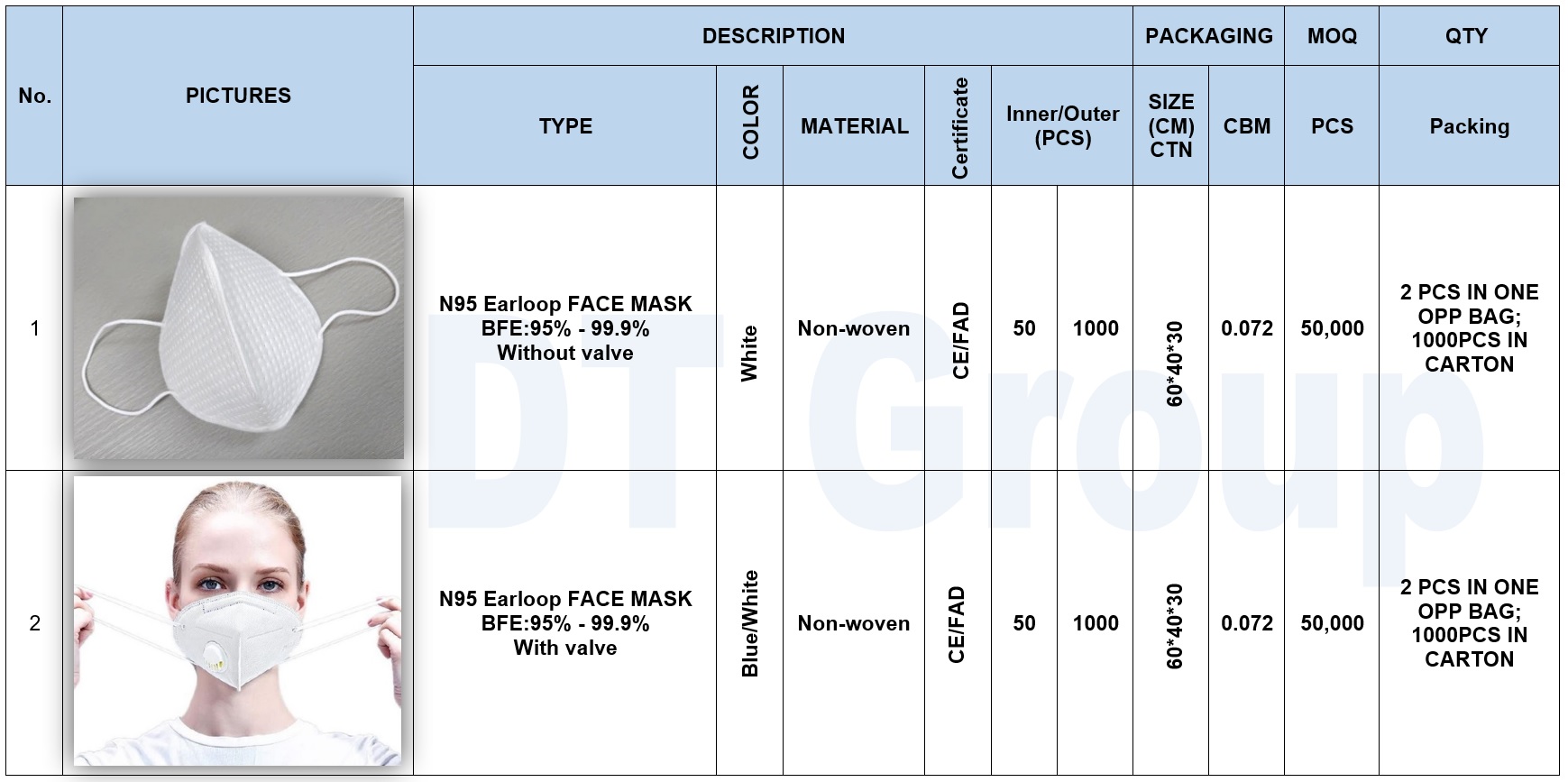 Ventilator | Respirator

Vented Mask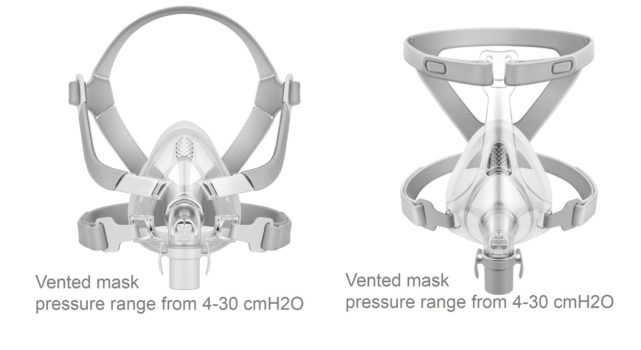 N95 vs FFP3 & FFP2 masks – what's the difference?
With the outbreak of Coronavirus worldwide, many people are significantly concerned about their health and safety.
In this post, we will look at the difference between breathing filter standards such as N95 and FFP2 / FFP3.
N95 vs FFP3 & FFP2
The most commonly discussed respirator type is N95. This is an American standard managed by NIOSH – part of the Center for Disease Control (CDC).
Europe uses two different standards. The "filtering face piece" score (FFP) comes from EN standard 149:2001. Then EN 143 standard covers P1/P2/P3 ratings. Both standards are maintained by CEN (European Committee for Standardization).
Let's see how all the different standards compare:
| Respirator Standard | Filter Capacity (removes x% of of all particles that are 0.3 microns in diameter or larger) |
| --- | --- |
| FFP1 & P1 | At least 80% |
| FFP2 & P2 | At least 94% |
| N95 | At least 95% |
| N99 & FFP3 | At least 99% |
| P3 | At least 99.95% |
| N100 | At least 99.97% |
As you can see, the closest European equivalent to N95 are FFP2 / P2 rated respirators, which are rated at 94%, compared to the 95% of N95.
Similarly, the closest to N100 is P3 rated respirators – with FFP3 following closely behind.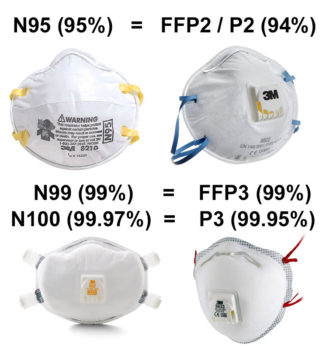 KN95 vs N95
Yes. N95 has the same specification as the Chinese KN95. See 3M document (link) – to quote "it is reasonable to consider China KN95, AS/NZ P2, Korea 1st Class, and Japan DS FFRs as equivalent to US NIOSH N95 and European FFP2 respirators"
Things to watch out for:
No guarantee that all KN95 respirators meet the KN95 standard – watch out for scams
Also, look out for – good seal around the face / some padding for comfort / tie around face straps with adequate strength and tension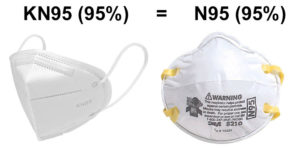 Source used: Fast Life Hacks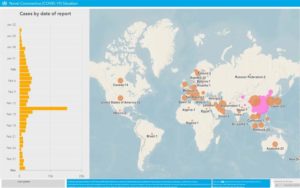 This interactive dashboard/map
provides the latest global numbers
and numbers by country of COVID-19
cases on a daily basis.
Source used: World Health Organisation (WHO)