Stone Paper Production Machine
Stone Paper Production Machine | Our group of companies is a Hi-Tech manufacturer dedicated to the production of extrusion plastic lines for films, sheets, and also granules.
Our group is able to prepare and execute turnkey projects for its customers, of which the Stone Paper production line project is one of the most important.
We as a professional manufacturer of the stone paper production line can manufacture and supply the below types of machinery:
Blowing Machine,
Casting Machine,
Rolling Machine,
Coating machine.
What is the stone paper?
STONE PAPER is a new product which makes from limestone. This paper has created a new revolution in the film and paper industry. Fortunately, Limestone is a rich natural resource worldwide.
We believe that STONE PAPER will contribute to the goals of sustainable development. In fact, this product is a new generation of paper and plastic products in various industries.
In order to do this, our group of companies has an investment in stone paper technology and machinery. Clearly, the future belongs to people who invest in this industry.
Features of Stone Paper Production Machine

(Cement Stone Paper Bag)
Extrusion
The raw materials are heated at a temperature of 200 degrees and then softened. Together with the molten polyethylene, it extrudes it into a three-layer ABC T-shape to form a three-layer composite film material.
Casting
It is stretching by two casting rolls. The thickness of the paper is controlled by adjusting the speed. And the paper rolls will be cooled and soft at the same time.
Corona system, Edge cutting, and Winder:
Now, passing through the corona system, the static electricity of the paper film is eliminated and the edges of the paper are cut on both sides. Finally, the paper goes to the winding machine and rolls. Eventually, we produce base paper.
Coating:
Once coated on a base paper with liquid, then you can use stone paper for writing, printing, making books, magazines, booklets, brochures, maps, and other products.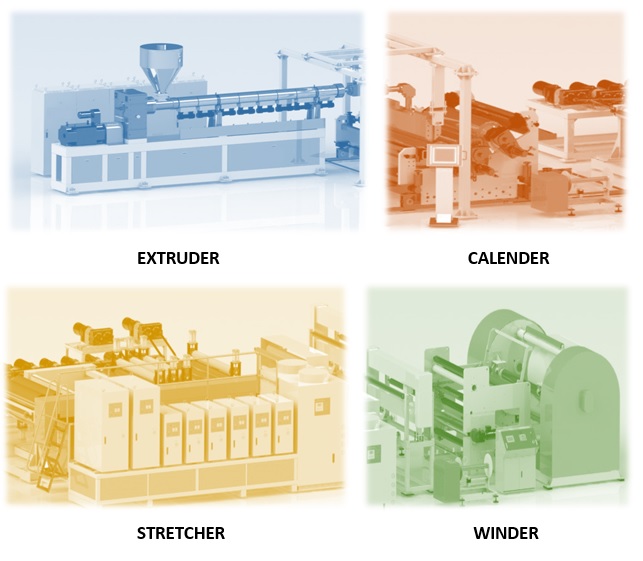 Stone Paper Production Machine
Type
Length
(mm)
Thickness
(Micron)
Capacity
(ton/year)
Blown Line
1200
100~180
2500
MDO Casting Line
1400
150~500
6000
Combined line
1200~1400
100~800
8000
Note: The specified specification can be made according to the customer's requirements.
Stone Paper component
70 ~ 80% Caco3 (Powder)
15 ~ 25% PE/PP (Granulate)
1 ~ 5% Coupling agent
Characteristics of Stone Paper
1. Features such as quality printability, soft texture, low price, and also waterproofness of this paper, have made it a superior product of cellulose paper.
On the other hand, compared to traditional synthetic paper, PP / PE environmental stone paper is produced with new technology.
As a result, there are obvious improvements in terms of printing, uniformity, static decoupling, and drying performance.
One of the important points in the printing industry is that ordinary printing ink can be used and the printing cost is only one third.
2. PP / PE stone paper production fully meets environmental conditions. Apart from good waterproof property, it has other advantages such as:
Prevent insect damage,
Anti-fat,
Light resistance,
Good light reception quality,
Non-toxic,
Harmlessness,
Abrasion and heat resistance (no deformation below 100).
Main Applications of Stone Paper
Stone paper can be used with higher quality printing, longer lifespan, and with lower cost for many kinds of printed matters like:
Wallpaper,
Pictorial,
Catalog, Business card, Advertising brochure,
Book cover, and so on.
Stone Paper is very suitable for printing valuable books and important documents due to its higher resistance to tearing than traditional papers, so they can be stored for years without damage.
In addition, the below products can be made from stone paper:
The cover plate of scanner and duplicator,
Special steel label,
The surface paper of quartz clock,
Mechanical scale,
Wall decorative paper,
Cement Stone Paper Bag, and etc.
Predictably, PP/PE synthetic paper can almost replace the traditional synthetic paper in more and more fields.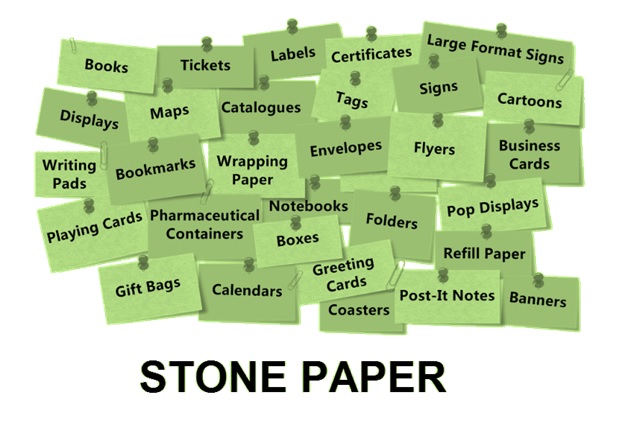 The advantages of Stone Paper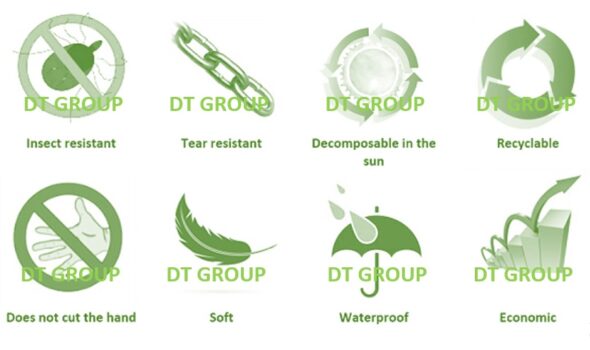 Less production cost 
The cost of producing stone paper is 40% lower than traditional paper production, so as a result, this product is also economically viable.
Waterproof
This kind of paper can be used as waterproof materials and it is suitable for outdoor maps or cement bags, and etc.
Recyclable
After converted into pellets, it can be used again.
Stone Paper finished product samples
Stone Paper Production Machine