Recycled Polyester Staple Fiber Machinery & PSF Production Line
Regenerated Pet Fiber Machinery & Equipment
Recycled Polyester Staple Fiber Machinery | In 2004 our group received the standard certificate ISO 9001: 2000 from SGS.
We are able to manufacture high-quality fiber machines and production lines as follows:
.

PET Recycling Line

.

Crushing Waste Fiber & Polymer

.

Super Mixer (Produce Recycled Chips – Popcorn)

.

Full PET Bottle Flakes Washing Line

.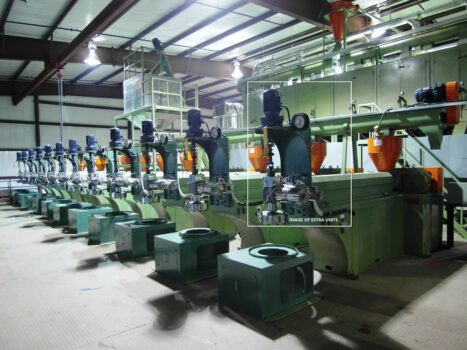 1990's
1992: COMPANY ESTABLISHMENT.
1995: FIRST EXPORT OF PSF LINE TO CHINA.
1996: DEVELOPMENT OF UP-DOWN TYPE PRESS BOX AND SEMI-AUTOMATIC WEIGHING SYSTEM IN BALER (FIRST AMONG RECYCLED PSF LINE MAKERS).
1998: DEVELOPMENT OF OVERLAPPING ROLLER OPTIMIZED FOR RECYCLED PSF LINE DEVELOPMENT OF SIDE-PIN SYSTEM AND BALE DISCHARGE SYSTEM IN BALER.
2000's
2001: IMPROVEMENT OF WINDING SPEED OF CAN WINDER TO 1,200 m/min.
2002: ADOPTION OF BM TYPE EXTRUDER SCREW.
2004: ISO9001:2000 CERTIFIED.
2005: DEVELOPMENT OF EXTRA UNITS TO THE STANDARD EXTRUDER FOR HOLLOW FIBER AND 3D SOLID FIBER.
2006: ADOPTION OF VERTICAL TYPE SCREW CONVEYOR TO CHIP STORAGE AND FEEDING SYSTEM.
2007: ADOPTION OF CHIP AIR BLOWING SYSTEM TO CONVEY CHIPS TO THE DRYER DEVELOPMENT OF MP TYPE EXTRUDER SCREW OPTIMIZED FOR RECYCLED CHIPS.
2008: DEVELOPMENT OF STEAM HEATING UNIT FOR DOUBLE CRIMPED FIBER.
2009: WIN USD 3,000,000 EXPORT AWARD.
2010's
2010: WIN THE FAITHFUL TAXPAYER OF THE YEAR AWARD.
2011: PRODUCTION OF TRILOBAL FIBER FROM RECYCLED CHIPS.
2012: EXPORT OF HOLLOW REGULAR FIBER LINE TO USA AND UZBEKISTAN (FIRST IN KOREA).
2014: EXPORT OF HIGH-TENACITY PP FIBER PRODUCTION LINE.
Recycled Polyester Staple Fiber Machinery
Our products: Learn More
---
Recycled Polyester Staple Fiber Machinery Video
To see videos of the production line:
---
More about Recycled Polyester staple fiber
It is a synthetic man-made fiber produced from PET/Polyester waste and post-consumer PET bottles.
This fiber is used in Non-Woven carpets, wadding, and filtration industries. Also, It is a good infill for stuffing cushions, pillows, and soft toys. And also quilts. It is also used for spinning yarns and making geotextiles.
Hollow Polyester staple fiber gives good resilience properties and is used to make premium pillows, cushions, and quilts.
Tag: polyester fiber machinery manufacturer, staple fiber machinery, polyester fiber machinery, Fiber, Polyester Fiber, Polyester Staple Fiber, PSF, Recycled, Regenerated Fiber, Pet Flake PSF, Polyester Staple Fiber Machine, Polyester Staple Fiber Production Line, Colored Fiber, Dope Dyed, filament, Iran, high quality, most selling, most profitable manufacturing business to start, medium-scale manufacturing business ideas, best manufacturing business to start.
Fiber machinery, cotton type, hi-tenacity, high tenacity fiber, spun yarn, non-woven fiber, pet fiber machine, hollow conjugated fiber, 3-dimensional fiber, machinery, production line, recycling system, staple fiber machinery, #fiber_machinery, #polyester, #staple_fiber