Stone Paper Manufacturer Line | We manufacture extrusion plastic lines for film, sheets, and granules as part of the Hi-Tech company group.
The Stone Paper manufacturer line project is one of the most significant turnkey projects that our group is able to prepare and execute for our customers.
As a professional manufacturer of the STONE PAPER PRODUCTION LINE, we are capable of producing and supplying the following machinery:
Continuous Granulation Line,
Blowing Line,
Casting Line,
Rolling Line,
Double & Single Coating Line,
Slitting Machine,
Cutting Machine,
Recycling & Granulation system.
What is the paper made from stone?
This new product is made with calcite. With the introduction of this product, a new era in the film and paper industry has begun. Calcite is a rich natural resource all over the world.
In our opinion, STONE PAPER will contribute to achieving sustainable development goals. This product is in fact part of a new generation of plastic and paper products in various industries.
In order to do this, our group of companies has an investment in stone paper technology and machinery. Certainly, the future belongs to people who invest in this industry.
Features of Stone Paper Manufacturer Line

(Cement Stone Paper Bag)
The production process of stone paper is simpler than wood pulp paper and does not use wood pulp. The stone paper manufacturing process does not use strong acid-based, and bleach, so it does not create chemical wastewater. The process of making paper from stone is an environmentally friendly paper-making technology that it is recognized by the Cradle to Cradle Institute.
The biggest point of this production, which is an innovative production process, is that it conserves water resources and reduces CO2, so it can reduce the degradation of our environment.
Continuous Granulation Machine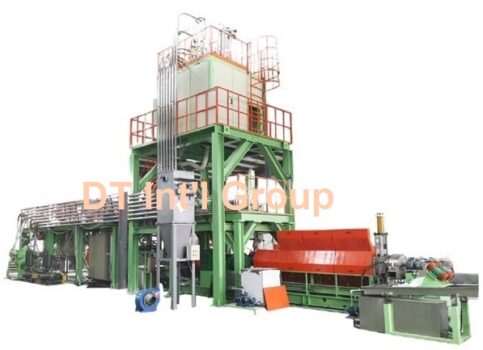 This machinery includes Weightless automatic metering, feeding system, and Continuous internal mixer with double rotors. Also, it has a Forced feeding device, a single screw extruder, and Die surface hot cutting auxiliary system.
According to the properties of high-filled calcium carbonate, we designed this machine specially. Steel alloys with excellent wear resistance use to make this product. There is a cooling water supply to control the temperature of the machine.
The barrel of materials is individually controlled at different temperatures by electric heating and water as cooling.
Special hydraulic flow controls discharge port, which can adjust the mixing degree of materials; External circulation shaft seal lubrication, labyrinth type shaft end seal structure, automatic cutting device.
Blowing Machine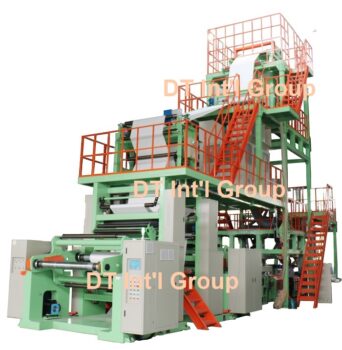 Granule made by Continuous compact granulation goes in the Blowing stone paper-making process. The thickness of the product ranges of the Blowing machine are from 100 to 180μm with a low density of 0.9 ~ 1.2 g/cm³. Its appearance is very similar to that of wood pulp paper, and surely it can replace most of the wood pulp paper.
The paper can satisfy the expectations of the printing process, so it can be used as a cultural paper to print notebooks, books, posters, magazines, and so on.
Generally, these products replace double-adhesive paper, coated paper, and non-stick paper in wood pulp paper.
Casting Machine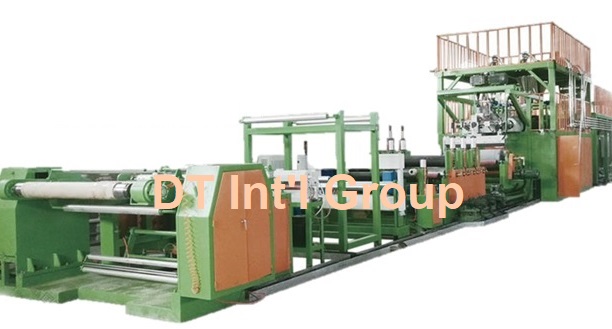 Granule made by Continuous compact granulation goes in the Casting stone paper-making process. The thickness of the product ranges of the Casting machine are from 150 to 500μm with a density of 1.3 ~ 1.6 g/cm³. The appearance of the product is similar to that of white card paper, so can use for some lightboxes.
The product meets the requirements for the printing process. It is mainly used for paper boxes, cardboard products, disposable meal boxes, and dinner plates, as well as waterproof cartons, etc.
Rolling Machine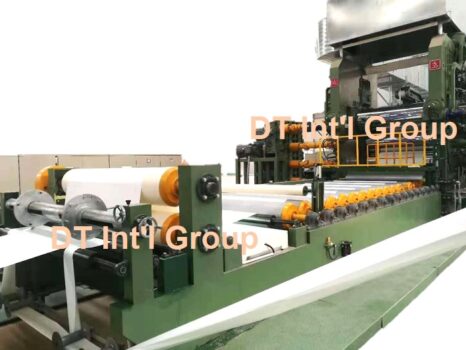 It is a One-step machine with a calendering paper-making process. The Rolling product has a thickness of from120 to 800 μm and a density of 1.3-1.6 g/cm³. Interestingly, the Rolling product looks like photo paper. Therefore, this product meets the requirements of the printing process completely. And also could emboss, blister, coat, adhesive, UV varnish, etc.
This product has a wide range of applications and can be used as handbag paper, packaging paper, decorative paper, label paper, special paper, etc., such as wood grain decorative film on the surface of high-density artificial board, wallpaper, handbag, imitation leather pattern paper, book cover, fine packaging carton, etc.
Coating Machine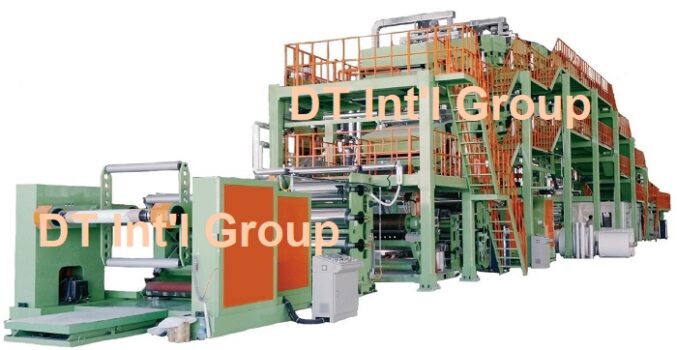 All stone base papers produced by the Blowing method, Casting method, and/or Rolling method need to coat by the Coating machine. The coating liquid surely must be prepared according to the formula.
The base paper coat on the coating machine by the reverse rotary method by forming reverse velocity difference between the paper surface, the coating roller, and the coating material supply roller. Then it can evenly and stably adhere to the paper surface. After drying in the oven, repeat the same operation to coat the back of the paper. And finally, the stone paper roll stabilizes by constant tension.
Coated products well use for writing, printing, and making books, magazines, booklets, brochures, maps, handbags, cardboard boxes, and other products.
Stone Paper Manufacturer Line
| | | | | |
| --- | --- | --- | --- | --- |
| Type | Width of Roll paper (mm) | Thickness (micron) | Density (gr/cm3) | Capacity (ton/year) |
| Blown Line | 1200 | 90 – 180 | 0.9 – 1.2 | 2500 |
| Casting Line | 1200 | 150 – 500 | 1.3 – 1.6 | 3500 |
| Rolling Line | 1400 | 120 – 800 | 1.3 – 1.6 | 4500 |
| Combined Line | 1200 – 1400 | 90 – 800 | 0.9 – 1.6 | 8000 |
Note: The specified specification can be made according to the customer's requirements.
Stone Paper Manufacturer Line video


Stone Paper component
70 ~ 80% Caco3 (Powder)
15 ~ 25% PE/PP (Granulate)
1 ~ 5% Coupling agent
Characteristics of Stone Paper
1. Features such as high quality printability, soft texture, low price and also waterproofness of this paper, has made it an interesting product superior to cellulose paper.
PP/PE environmental stone papers, on the other hand, are manufactured with technology that is new when compared to traditional synthetic papers.
Consequently, there are obvious improvements in printing, uniformity, static separation, and drying performance.
One of the important points in the printing industry is that ordinary printing ink can be used and the printing cost is only one-third.
2. PP/PE stone paper production fully meets environmental conditions. Furthermore from good waterproof property, it has other advantages such as:
Prevent insect damage,
Anti-fat,
Light resistance,
Good light reception quality,
Non-toxic,
Harmlessness,
Abrasion and heat resistance (no deformation below 100).
Main Applications of Stone Paper
Stone paper can be used with higher quality printing, longer lifespan, and with lower cost for many kinds of printed matters like:
Wallpaper,
Pictorial,
Catalog, Business card, Advertising brochure,
Book cover, and so on.
Stone Paper is very suitable for printing valuable books and important documents due to its higher resistance to tearing than traditional papers, so they can be stored for years without damage.
In addition, the below products can be made from stone paper:
The cover plate of scanner and duplicator,
Special steel label,
The surface paper of quartz clock,
Mechanical scale,
Wall decorative paper,
Cement Stone Paper Bag, and etc.
Predictably, PP/PE synthetic paper can almost replace the traditional synthetic paper in more and more fields.
---
WE CAN DESIGN, MANUFACTURE, SUPPLY, INSTALL AND START-UP HIGH QUALITY STONE PAPER MANUFACTURER LINE
---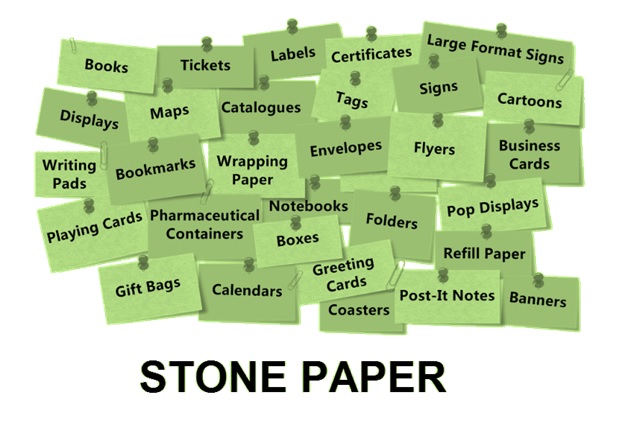 The advantages of Stone Paper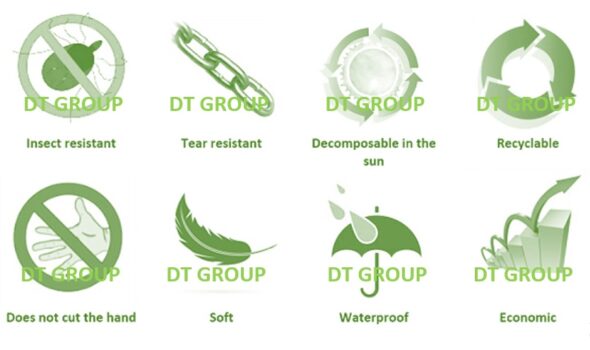 Stone paper's contribution to the natural environment
Tree cutting: No need to use pulp or plant fiber to make paper.
No water added: The stone paper making process doesn't add water.
Acid: The stone paper making process doesn't add acid.
Alkali(bare): The stone paper making process doesn't add alkali / bare
No bleach: Not use bleach and don't use water to wash
Environmental: Preserve forests save the ozone layer.
Energy-efficient: The stone paper making process uses less energy than pulp paper.
Reduce CO2: Not release water waste and gaseous waste: protecting the river, ocean, and air.
Less production cost
The cost of producing stone paper is 40% lower than traditional paper production, so as a result, this product is also economically viable.
The competitive advantage of stone paper V.S. wood pulp paper
The cost of raw material is lower than wood pulp paper.
Capital investment required is less than wood pulp paper.
The cost of production is lower than wood pulp paper.
Stone paper's characteristics such as stretchability, durability, and water resistance are better than wood pulp paper in the same thickness comparison.
Smoother surface and its natural whiteness with better printing effects.
Water-resistant and will not wrinkle or damage when wet. Change in moisture will not cause shrinkage or extension. The paper will not be fuzzy on the surface thus prevents from bacteria growth.
Heat-setting characteristic works great with hot melt glues.
Termites free and moth free under room temperature.
Stone paper can be recycled by converting into recycled pellets for further manufacturing. If dispose of garbage and sent to incineration, the remaining mineral powder can be returned to the earth.
Waterproof
This kind of paper can be used as waterproof materials and it is suitable for outdoor maps or cement bags, and etc.
Recyclable
After converted into pellets, it can be used again.
Stone Paper finished product samples