Spinning Fiber Machinery
Spinning Fiber Machinery refers to machines that process (or spin) prepared cotton/fiber roving into workable yarn or thread. Such machinery can be dated back centuries.
Spinning Beam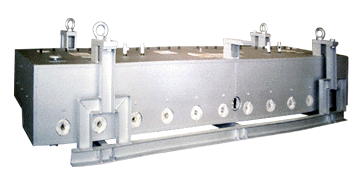 Self-sealing spin packs: The self-sealing principle of the spin pack prevents leakage at start-up, during long-time operation, and at high pressures. In our design, the spin pack easily assembles. All parts, such as spinneret, screens, seal, etc. assemble together without bolts. The spin packs are suitable for all currently available filter media.
Less heat loss: The compact design of the spinning beam and the resulting small surface keep the heat loss to an absolute minimum. Sufficient insulation further contributes to the utmost economy in energy consumption.
Installation of the spin pack from below: The installation of the spin pack from below is easy and convenient with no need to remove insulation material. With three revolutions and a special key, the spin pack screws onto a thread. Assembling and disassembling do not require big torques.
---
Quenching Device

in Spinning Fiber Machinery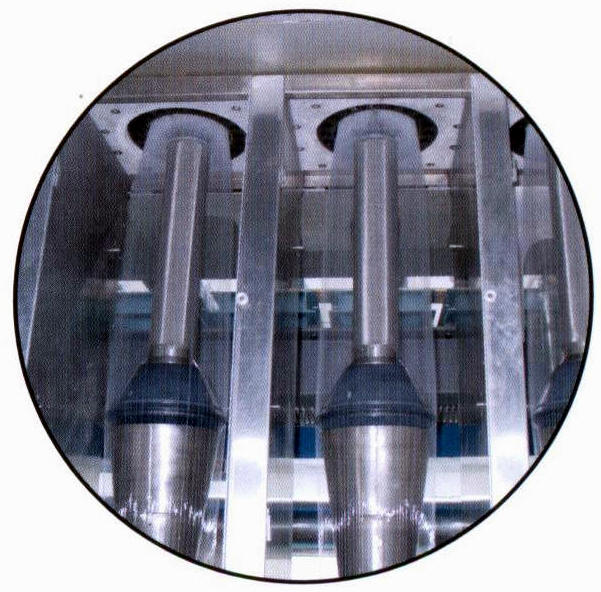 In-to-out quenching device: Low-pressure in-to-out open quenching system, Open window type, Quenching from inner to outer radial blowing, Max quenching air pressure 2500Pa, The low-damping rectifier is easy to clean. Adopts the annular spin finishing slit in the quenching window.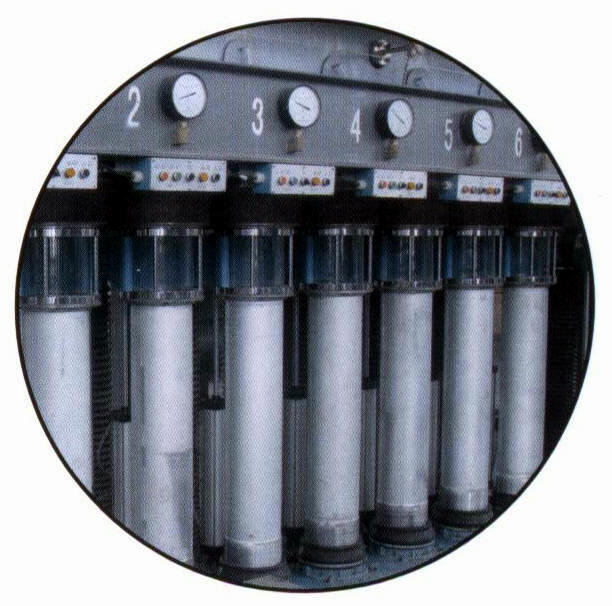 Out-to-in quenching device: It adopts the form of a completely sealed annular quenching system with automatic adjustment on the valve. Tow spin finishing adopts a slit preparation ring and preparation is at the inner side of the ring. The rectifier is easy to mount and clean.
---
Draw off Wall and Spin Finish Application System

in Spinning Fiber Machinery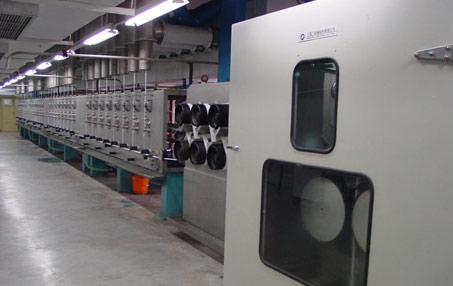 Draw-off machine & spin finish application system for draw-off
Stainless steel surface draws off the wall in 1 section, 8 positions each, Two-sides spin finish application with an integrated system of spin finish supply, distribution, and circulation. Application wheel driving, individual motor controlled by one inverter, Tow roll, Tow holding roll, Tow cutter, Waste aspirator, Suction gun, V type tow roll, Front panel, Spin finish recycle collection device for drawing off.
---
Feeding and Can Traverse Device

in Spinning Fiber Machinery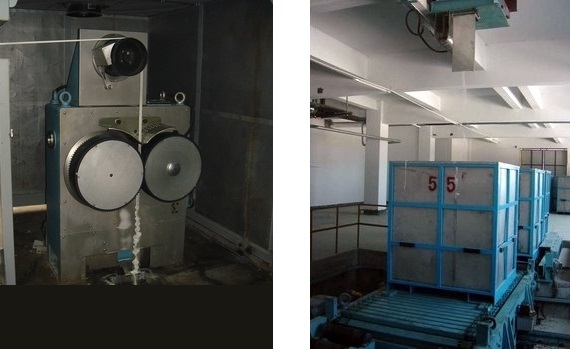 Feeding Machine & Can Traverse Device
The feeding machine adopts the combined form of a sunflower and a guiding roller. The surface of the rollers is coated with AL2O3. The guiding rollers are driven by an asynchronous motor controlled by a coder through highly precise gear. The material of guiding rollers adopts aluminum alloy to reduce the unbalance centrifugal power when running. Can traversing device, Tow cutter, Full can pusher.