Web offset printing press

Introduction 
---
Goss Graphic System Corporation is a subsidiary of Shanghai Electric Group (SEG). They acquired 100-percent ownership of Goss International in June 2010, after exercising an option established when it became a shareholder in the company in September 2009.
The acquisition by SEG gave Goss International an industrial owner with substantial resources and accelerated the cooperation among SEG, affiliated printing equipment suppliers within a unique worldwide network.
In July 2015, Goss International announced that parent company, Shanghai Electric Corporation (SEC), has entered into a definitive agreement to sell Goss International and its subsidiaries to AIP. The agreement formed part of a broader strategy to further strengthen Goss' position as the world's leading web-offset printing press supplier. The factory in a land area of 141 acres moved into a new factory in Yunling East Road, through the process of advancement to the new phase of production.
Shanghai Electric Group, as the industry leader of innovative culture and customer collaboration of Goss International, became leveraged and built on the formula of continuous innovation and international expertise, as Goss China, the producer and supplier of web offset presses and finishing systems for newspaper, magazine, catalog, direct mail, packaging and other printing applications for the worldwide market.
Exclusive Authorized Agent in Iran
---
Weare proud to be authorized exclusive agent of Goss china in Iran territory.
Goss website: Learn More
Web Offset Printing Press
Products
---
To see more products please go to >> en.goss-iran.com <<
Catalog
---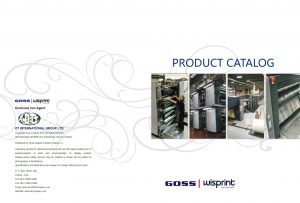 Goss, Web offset printing press, newspaper, book, commercial, magazine, catalog, visit card, packing, sheet-fed printing press, offset, Goss is the manufacturer of choice for Newspaper Printers around the world. Goss newspaper presses are renowned not only for their consistent print quality but also for their reliability. The Goss Presses are modular in design and can easily be expanded to meet new demands as the customers business grows.
Brothers Frederick and Samuel Goss founded the original Goss Printing Press Company in Chicago in 1885. One of the first printing press systems the brothers designed was a two-color press called the "Clipper". This new system allowed for printing on both sides of the paper simultaneously, a major advance in the printing industry at this time.

Goss China continues the Goss innovation by designing and manufacturing printing presses for the global printing industry.
Our highly automated and productive printing presses are supplied worldwide and are currently used to print newspapers, magazines, books, catalogs, packaging, direct mail and many other specialist products.